Virgilio, Monrovia.
Live In
Experience: 10 yrs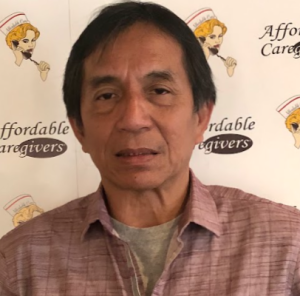 Virgilio is a registered caregiver with 10 years of experience. He was able to handle clients with Dementia, Alzheimer's, and Stroke. Patients under Hospice Care and clients with catheters. He is also experienced in assisting a client who needs lifting and transfers. Patients who require Physical Therapy/ Exercises and clients with assistive devices such as walkers and wheelchairs.
He's trained in
Performing CPR
G-Tube
Medication administration.
He can also do light housekeeping and personal hygiene/bathing.
Available Schedule
Live In; Tuesday, Wednesday, Thursday, Friday, Saturday
Qualifications
✅ Multiple Background Check
✅ HCA-ID
✅ Bonded
✅ Insured
✅ Non Driving
✅ College Degree Holder
✅ State Licensed
Skills
✅ Light Housekeeping
✅ Medication Reminder
✅ Meal Preparation
✅ Help with personal hygiene
✅ Help with mobility
✅ Transportation
✅ Companionship
✅ Reporting and Monitoring