Kathy Wilson, Cypress
Live Out
Experience: 3 yrs Age: 32 yrs old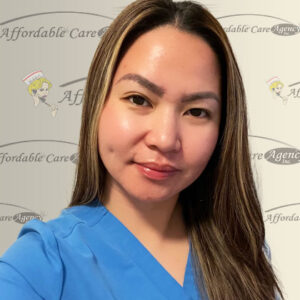 Kathy is a 32 yo Female Registered Caregiver with 3 years experience in Caregiving. She is fluent in English and graduated her Bachelor of Science in Nursing at Our Lady of Fatima. She currently resides in Cypress and registered in the state of California. She is a driving caregiver with own means of transportation and with valid Driver's License.
During her years as a Caregiver, she experienced and received training for the following:
Dementia
Stroke
Physical/ROM Exercises
Hospice Care
Incontinence Care
Post Surgery Care
Catheter Care
Colostomy Care
Medication
G-tube
Hoyer lift, Walker, Wheelchair, and ADLs.
Available Schedule
Live Out; 7 Days
Qualifications
✅ Multiple Background Check
✅ HCA-ID
✅ Finger Printed
✅ Driving
✅ College Degree Holder
✅ State Licensed
Skills
✅ Light Housekeeping
✅ Medication Reminder
✅ Help with mobility
✅ Transportation
✅ Companionship
✅ Reporting and Monitoring